Ingredients bringing about authentic flavor
Daitoku is a "Ponzu" maker in business for more than 60 years. We have pursued "really savory and healthy taste" over a long period of time. This is nurtured only after an encounter between true natural ingredients and artisans with great technique. Yuzu used in many Daitoku's products as well as kelp and dried bonito giving deep delicious taste to Ponzu, are nothing but healthy ingredients grown by nature and man with love.
"Dried bonito" matured by nature and man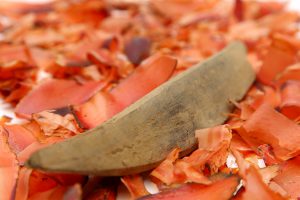 "Dried bonito" is one of ingredients creating taste for "Ponzu", representative of Daitoku. This old Japanese ingredient is matured bonito with smoke and power of bacteria. Bonitos swim in a vast sea and produce strong and delicious taste inside. It takes days and days to bring out the favorable flavor and give concentration for making dried bonito. Throughout that period, specialized artisans make sincere efforts to work faithfully with respect to each process. The delicious taste matures little by little with the power of nature and people. Dried bonito loses its moisture in time and becomes fragment of woods. Then it becomes the dried bonito taken to a higher level of authentic flavor. The dark brown thing has condensed and strong taste. To make really tasty Ponzu, the dried bonito's condensed delicious taste is must-have.
We use the obtained dried bonito's taste in producing Ponzu.
"Kelp" nurturing delicate taste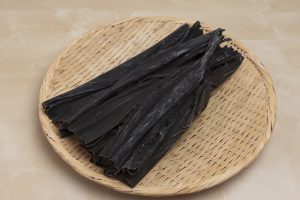 For our Ponzu's delicious taste, "kelp" is another pole as well as dried bonito. "Kelp" forms the foundation of Japanese cuisine tastes and is an origin of delicious taste essential to Ponzu's flavor. Kelp grows in severe sea of North Japan and roots deep not to be defeated by angry waves. Being buffeted by cold waves, it receives sunlight throughout the body and produces delicious taste inside. Grown kelp is very long and some of them are 20 meters long. Fishermen gather, dry and deliver this significant natural blessing, using their whole bodies. Daitoku uses the kelp's delicious taste delivered in this way for Ponzu.
"Shiitake mushroom", delicious taste nurtured by power from the sun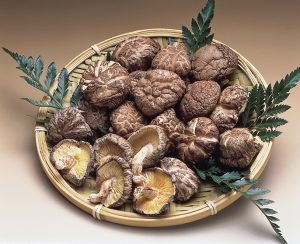 Shiitake is a representative mushroom of Japan and one of mushrooms loved most in Japan. This popular mushroom brings deep flavor after it meets the sun. The sun dries the mushroom nurtured with great care. This encounter with the sun brings out shiitake's delicious taste and condenses it. The shiitake's flavor gives "depth" by snuggling "dried bonito" that creates strong flavor and "kelp" that spreads the taste. It is a necessary ingredient to produce Ponzu with authentic palatability. We carefully select this shiitake and pursue authentic flavor.